The Janus Writer's Tale
30th Jan 2014
Not a lot of people know that Stephen Sims, a successful published author under another name, wrote photo stories and other fiction for well over 100 issues of Janus! He also starred as Roger Storing (below) and Royston Arnold in numerous photo shoots and went on to edit Privilege Plus and Privilege Club. With his new novel about to be published, Janus archivist Jon Rayworth caught up with him just before Christmas last year…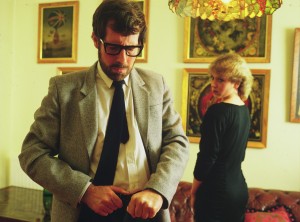 Jon Rayworth: Stephen, welcome! Thank you for agreeing to do this interview. Perhaps we can start by talking about how you came to be involved with Janus…
Stephen Sims: In between writing jobs I used to do walk-on and support acting work in film and television. At one of the gigs I did a chap was talking about this photographic stint he'd done for a magazine. I hadn't heard of it at the time, but what he said made my eyes light up. He said it involved working with delightfully pretty girls who aren't always fully dressed, you get paid in cash on the day and it's not terribly hard work. The next day I phoned the number he gave and spoke to the editor's secretary, a girl called Raine, who said I had to write in and apply formally, so that's what I did. I was invited along to a little office they had in Golden Square in London at the very top of the building, really the attic area, for this interview. They obviously needed to see the candidates first, and I met this towering man who introduced himself as the photo editor, this was Vic Barnes, and Peter French who was the editor. We got along okay and that's how it all started.
JR: What were your first impressions of Peter?
SS: At first I thought he was rather a cold person, he'd gaze rather bleakly at you, a bit like a headmaster I suppose, but it was all a front. Peter was a Fleet Street man, he'd worked in newspapers and was very interested in the fact that I was actually a writer and had books published. After I'd done the first shoot he asked me if I'd like to have a go at writing a photo story. He added, "we'll pay you," which sounded like a good idea, so I was delighted to see if I could do it. My first appearance as a model though was as Roger Storing in Janus 47 (below).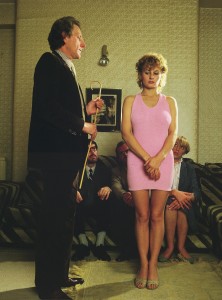 JR: Here it is! What was it like to do that shoot?
SS: Goodness, I haven't seen this magazine for a long time! Shooting this was a very strange experience. It was my first time, as they say, and I didn't know what to expect, there were several other people there. Rather to my relief I found I wouldn't have to actually do anything except sit down and watch. The idea behind the shoot was that this young woman had misbehaved in some sort of way and her stepfather had called the neighbours round to witness her punishment.
JR: As you do!
SS: Well exactly – it was a great set-up! I was very nervous actually, it was quite extraordinary to see this girl come in, not in the least bit nervous herself, chattering away in a cockney accent, giggling and laughing. I assumed she'd be terrified as she was about to be "dealt with most severely", as Peter would say; she didn't bat an eyelid, but I was absolutely mesmerised! Of course once you've done a few shoots you become a bit blasé about it, but this was my first experience. I do remember Vic saying to me at one point, "Stephen, pull your socks up" – my socks were round my ankles, which would show in the shot. I remember too that there was a strangely negative rapport going on between Peter and Vic, in a nice sort of way, they were always arguing and it was quite funny to watch. Vic would get so exasperated sometimes he'd hand the camera to Peter and tell him to get on with it. They were both perfectionists, but the relationship worked. As it went on I gradually relaxed and at the end of it I remember Vic saying it was a good shoot and Peter said he'd like to use me again. I don't think there was any thought that they'd use those particular characters again, but once Peter knew I was a writer he was happy to talk about story ideas with me, and he discussed whether there was anything more we could do with my character. Peter was wonderful – he became a great friend really, I could always turn to him for advice, he was really into the subject; Vic and I weren't so much, but we were fascinated by it and we learnt a lot from him.
JR: You returned very quickly as Roger Storing in Janus 50 (below). Do you remember much about Jackie? She only appeared once but she was a very believable model.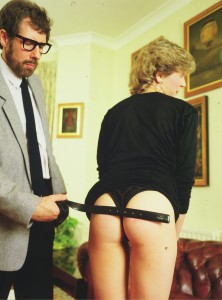 SS: She was a sweet girl, very mild. She was probably about 19 or 20 years old. I don't know if she'd done anything like this before, she seemed quite shy. It was Vic's job to have a chat with the model beforehand, talk about what he was looking for and put her at her ease. When you start a Janus shoot you don't really want to have a 'warm-up' chat with the model, some tension between the man and woman is a good thing for a photo shoot like this as the tension is conveyed in the pictures. The photo on the front cover of Janus 50 is brilliant. The shoot was important for me because it was the first one Peter let me write the photo story for. It was my big test, but he liked it and they ran the story alongside the photos. After that first one I wrote every photo story until well into the hundreds, maybe as high as Janus 161.
JR: I didn't know that – you appeared in Janus 161 as well. This time you were playing Hillary Hanbury-Boyce's cousin Royston Arnold (below).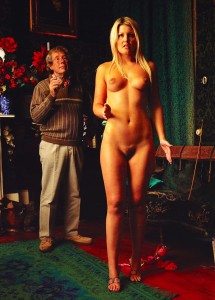 SS: Yes, St John (who was editor of Janus at the time) and I did this one at the Greenwich house. Vic had left by then and we were using a digital camera. When we got there we didn't quite know what we were going to do for the shoot, but in the end I reckon it was one of the best we ever did. When this model walked in she was so beautiful, so exquisite, she was almost not quite human and one of us came up with the idea that she might be a machine who would do absolutely anything for a man. Imagine! The girl was great. I remember saying for the very last shot let's put in a little twist and have her smile to herself as she walks out, as if to say, "Fooled them," just so people might think that maybe she wasn't a doll.
JR: Let's talk a bit about another photo shoot at the Greenwich house. This one was shot in the bathroom for Janus 66 and featured Sheena McBride (below). Sheena had appeared in the magazine before, but it was the first time she'd met 'Roger Storing'.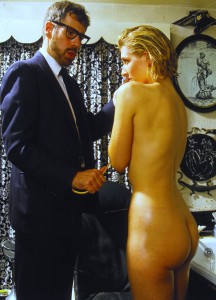 SS: It was the first time I'd met Sheena. Again, she was a very quiet girl. I remember she was a make-up artist by profession; she wanted to work in films I think. That house in Greenwich was amazing, it was next door to the house where Daniel Day-Lewis grew up; his father was Cecil Day-Lewis, the poet, so who knows if Daniel saw any of our photo shoots taking place! It was an extraordinary house, decorated in a style similar to the early- to mid-1800s and full of memorabilia and vintage furniture. The woman who owned it was completely laid back about it all – she even made tea for us! There were so many rooms we could use and Vic was great at working in tight spaces. We even used the garden there. I was in quite a few photo stories, though; another one that stands out is 'A Stern Line' (Janus 72 below left), although I was almost unrecognisable in dark glasses, a hat and a beard. I was also 'Mister X' for the lovely 'Usha' (Janus 77 below right). I learnt so much from Vic, which was especially helpful when I took over as editor of Privilege.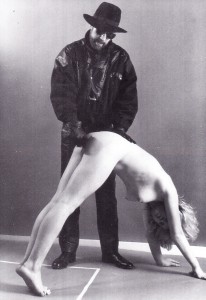 JR: I understand you were based in Golden Square while you were writing for the magazine. You were really the fourth member of the Janus dream team, along with Peter, Vic and Paula Meadows weren't you?
SS: I suppose I was. I think Peter rather took me under his wing; with his background in journalism he liked the stuff I was producing and kept using me. He would have me in the office two or three times a week to help out with the preparation of the text, so I learnt to proofread, which is a lot more difficult and exacting than it might seem, but he taught me not to miss things. I'd sit there for hours just going through the final copy in preparation for the printer, and Peter would be the first to tell me if I missed out an apostrophe or comma or the slightest glitch in spelling. Vic was there as well, working with his lightbox to find the very best images from the transparencies. There was always something to do – you were preparing the copy for one magazine and working out what you were going to do in the photo shoot for the next one. Peter would discuss every tiny detail about the next story at length with Vic, and eventually I did start to join in these discussions. After Golden Square they moved to a nice little office at Camden Lock and I became more involved there in the preparation of the magazine.
JR: I seem to remember you telling me that you were actually working in the office when Sophie Fennington and St John came in for the first time. Is that right?
SS: I was there, yes. I wrote that photo story as well. They were a great couple, married at the time, good-looking and both with appealing personalities. Unlike most models they knew exactly what they wanted, and were well-versed in the subject. Incidentally, the reason Peter was looking for a writer to take over the photo stories was because the chap who'd been writing them before me had been 'doubling up' – selling the same stories to another magazine so he was actually getting paid twice for the same work! They do say you never get away with anything, and eventually he got found out, but it worked out well for me because I was on the spot ready to take over.
JR: What was working in the Janus office like?
SS: Well first of all you came up in a creaky old lift to the top floor, and walked in to find a very attractive girl called Raine on reception. On the wall behind her was a big American illustrated poster showing a secretary over her boss's knee getting a whaling, yet Raine looked as if butter wouldn't melt in her mouth! I've mentioned this in my book because it amused me so. You became a little bit used to absolutely gorgeous young women coming in. I'd be sitting there proofreading or something and Vic would be chatting to these prospective models. Peter would usually just be sitting and watching this conversation, and at some point he would invariably ask if they were into the subject. Eventually Vic would say, "Would you go ahead and remove your garments so I can have a look at your bottom and get some idea?" Then he'd take a few polaroids of this semi-nude girl in all sorts of postures and I'd be thinking, like, 'Now then, should that be a comma or a semi-colon there…?"
JR: There are still many of these polaroids surviving in the archive today (the three below are from Lucy Bailey's interview). Presumably from those shots they'd then make decisions about which models to use?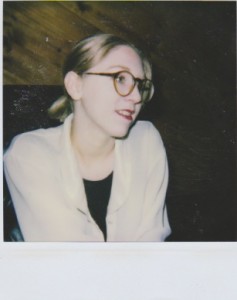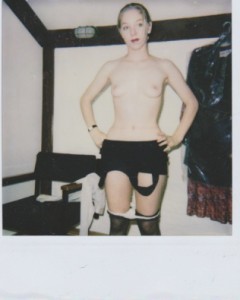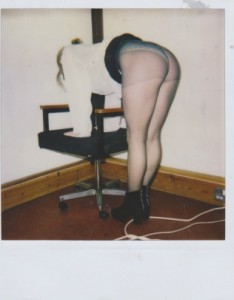 SS: That's right, Vic would ask the model to assume a couple of positions, but he was very keen to see their expressions, Peter was too. They had to be able to act otherwise the shoot would look flat and unbelievable. Most of the models could do it but one or two couldn't, some would keep collapsing in giggles.
JR: Peter was always looking for women who hadn't done much modelling before, wasn't he?
SS: Yes, he wanted them to be a 'Janus Girl' – one who didn't appear anywhere else. I remember this one girl who was an undergraduate at university and she wanted to model to make a bit of extra money. I think her mother even came along with her to the interview! She was very well-spoken, and after the shoot she said "Thank you for smacking me so nicely." All the models were lovely, though I suppose my favourite was Christina Winchester (below) who appeared in Februs and Privilege. I even gave her her 'nom de spank' of Winchester.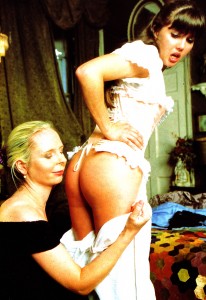 JR: She also went under the name of Rosaleen Young, I believe.
SS: That's right. The picture you're showing is from a shoot Christina did for Privilege Club. She was an extraordinary talent; a great actress and dancer and I know she performed Shakespearian roles on the stage. She's retired from modelling now but continues to act, I believe. She was a very good writer too, and used to write her own stories for Privilege. A very interesting character altogether – a talented artist as well.
JR: She appeared quite a few times in Privilege, didn't she?
SS: Yes, she got in touch with me; she wanted exposure, if I can use that word, and showed me some of her work, and I could see she was a good writer. I asked if she wanted to write about her own fantasies and we had an experiment photographing these fantasies. I'm not sure it was always successful because what goes on in one person's mind doesn't always translate to good photographs, but it's good to try new things and I felt very lucky to have her contributing to Privilege.
JR: Tell me how Privilege came about then.
SS: Well, for a very long time there was a small A5 size Privilege which was available to Privilege Club members only. I used to put that together on a regular basis, once every two months. We didn't pay any money to contributors for that, so there wasn't always a lot of material, so anything I didn't have I had to create myself! I was already doing that when Peter stepped down as editor of Janus. I'll be honest and say I hoped I might be asked to take over or that Vic might take over. Gordon Sergeant rang me and said he wanted to meet me in a pub near the Camden Lock offices. I thought (hoped?) he was going to offer me the job as editor on Janus. He started off by saying "I'm afraid…" I thought that doesn't sound too good! Then he went on, "I'm afraid I can't offer you the editorship of Janus as someone else is doing it." I thought Vic must have got it and I would have been delighted for him. Later I learned it was St John who'd actually got the job. However, Gordon did offer me my own magazine, a full-size version of Privilege to be called Privilege Plus, and that's how it began. He let me hire my own writers and artists and arrange my own shoots.
JR: Did you continue to use Vic at all for Privilege Plus?
SS: Absolutely, Vic's the best there is. Apart from his more obvious photographic skills in arranging and lighting his subject he created those amazing impact shots and was certainly the first photographer to achieve that. But I knew I couldn't make the new Privilege Plus a clone of Janus, or another Februs, and I think Gordon was expecting me to create something a bit different, though he didn't give me any particular brief, just let me do my own thing. As part of this 'difference' I thought why not have a series of historical scenarios and even write in the style of the period? We found a lovely costumier down in Hastings who was amazingly inexpensive to hire all kinds of costumes from. I had a very large friend called Max and remember thinking he'd make a wonderful Henry VIII, so we did a great shoot with him and some 16th Century wench at Hampton Court. We did all periods, from a flapper girl in the 1920s getting seen to, to Victorian and Edwardian spanking extravaganzas, including what I thought was an interesting take on a scenario from Thomas Hardy in which a widow and her daughter got physically disciplined at the same time by the miller. We even experimented with two girls together getting spanked by a ghost! Not all these ideas worked, but the challenge was always there to come up with something a bit unusual or unexpected. We even did a P.G. Wodehouse take-off in which, in the accompanying text, I tried to write in the spirit of the great man. Of course Privilege continued as a 'Contacts' magazine as well, it was important to keep that aspect from the old A5 pamphlet, as it was so popular. We used Julie Holmes, who was a great writer with great imagination and also very cheeky; she used to write a column called Advocate, looking at different aspects of corporal punishment from the female perspective. I was lucky through the connections I'd established with Janus to draw on the talent of a number of excellent female contributors, including Christina Winchester, Sarah Veitch and Delaney Silver.
JR: What were your feelings when Privilege came to an end?
SS: I did miss it. I missed the excitement of having a whole new magazine to create from nothing. The format was always set for each issue. Contact adverts were arriving and you had to fill the rest of the magazine up. It was a marvellous challenge to be different to Janus and Februs: deciding who would write the stories and articles and illustrate them (I couldn't use the same artists as Janus); organising the photo shoots; finding the models and booking them, then dreaming up a suitable story and collecting the costumes for it; it was wonderful. Also, I did all my own layouts in those days, I had a lightbox and used to choose the colour trannies, measure them all up and crop them to size; I did the whole of the layout of the magazine myself. I selected the fonts and lettering for the story titles. I found the whole experience fascinating. The magazines were such a marvellous collection of beautiful writing, incredible photography, evocative artwork and readers' letters, I can't help feeling we've lost something with their demise. There's nowhere online where you can get that rich combination of different elements – yet, ironically, it was the availability of instant downloading of images from the internet that eventually killed off the magazines.
JR: I certainly agree. I guess you must have been thinking about the next issue of Privilege all the time?
SS: Well, I tried to make each one the best it could be. I was always trying to come up with fresh, new, original ideas and to use as many female contributors as possible. Obviously Paula had Februs, and that magazine was entirely from the feminine perspective, but as a male orientated magazine I felt it was important for Privilege to have a female voice as well.
JR: What do you remember about Paula?
SS: I must get back in touch with Paula. I used to pop round and see her every now and again and we'd have a drink and some lunch, she was delightful. We were mates in those days – she had a magazine, I had a magazine. Both our magazines closed at the same time, people just weren't buying printed magazines anymore.
JR: As you look back what memories stand out from your time working for Janus?
SS: It was the camaraderie, you know. There was always a nice atmosphere in that office, they were the golden days in Golden Square really, it was a golden era. You'd get girls coming in and out most days – after a while you didn't bat an eyelid. You're doing a bit of copy editing and you turn round to discover a model with her knickers off bending over; imagine that happening in an ordinary office! But the girls were sweet too, had a laugh and a chat over coffee with us afterwards, none of them ever got hurt (unless they wanted to be, and one or two did), seemed to enjoy what we were doing and were of course an essential part of the scene. We didn't think anything of it at all back then. I guess I must have been there about fifteen years in total – they were good years.
JR: You're a published author under your own name but after quite a break you've come back to writing about the subject of corporal punishment in your new novel 'The Bottom Man'. Tell me a little bit about the new novel and how you came to write it.
SS: For a long time I've wanted to write a story about a decent and caring man who finds himself inexplicably drawn to the idea of erotic spanking, and of a young married woman with a responsible job who finds herself fascinated by the idea of being spanked. And neither knows why. How they eventually get together in the book is really an adult comedy of errors, and when they do the result isn't at all what might be expected. But don't expect an extended piece of highly-charged Janus-style fiction, this is an I hope insightful and realistic story of two people, puzzled by their rather 'strange' and socially unacceptable desires, who find each other through these desires, with many a slip-up and misunderstanding along the way. I've used my experiences of working in the business to give an authentic background, even to the reality of how those magazine photo shoots would sometimes go! Even the content of certain erotic correspondence in the novel is taken from life and not invented. Then there are the all-too-often misguided prejudices indignantly aired by those who don't or won't or are afraid to understand the adult need (because it is a need) by others to spank or be spanked in a mutually consensual way. As will by now be obvious, this scene has long fascinated me, which is why I couldn't resist writing about it. And at last it's ready! I hope readers will emote with, empathise and enjoy it.
JR: I certainly very much enjoyed reading it. I think people will be interested to know that you have indeed drawn on some of your own experiences working for Janus and editing Privilege, specifically in the way that your two central characters, Jed and Tamar, meet.
SS: Yes, no one who hasn't worked for a magazine like Janus could possibly know what it was like. I wanted to reflect that experience in some way for the reader. All of the personal ads came in the form of letters back then and it was rare for a woman to advertise; an advert sent in by a woman would stand out, so in the novel, Jed, whose growing interest in the subject has caused him to subscribe to a magazine similar to Janus, responds to Tamar's classified advert before it's published, with all sorts of interesting consequences. As I say, the set-up of the photo shoot I describe really were often like that! Vic Barnes is very thinly disguised in the novel as Allan Jardine, while Peter French might well see something of himself in the editor, Gus Britten!
JR: The novel also includes quite a few unpublished photos from the Privilege shoots and in particular some lovely previously unseen images of Lucy Bailey and Christina Winchester. What made you decide to include those?
SS: Well, they're not intended to illustrate the ongoing action, but rather to reflect the atmosphere stimulated by the respective male and female heroes' subconscious fantasies at certain points in the narrative. I think they add something and I hope readers will enjoy seeing them. Although one or two of the pics might appear familiar to aficionados, these particular versions of the shots have never been published before.
JR: Any more thoughts now you're back in touch?
SS: I've got quite a lot of material left over from those days, and it did occur to me to put together a small anthology every couple of months or so to go on the Janus website, a miscellany of pics, articles, stories, illies, readers' letters – that sort of thing – from past editions, including stuff that never got published and illustrations that were never displayed. These anthologies could carry new contact ads too, free – I'd love to think we could help get people like Jed and Tamar together in this way.
JR: Stephen, there will be many people reading this who won't have previously been aware of the enormous contribution you made to Janus over the years. Thank you so much for giving up your time to talk about your experiences. It's been great to meet you.
SS: My pleasure, Jon. And, if I may say so, a privilege.
You can read a free chapter of Stephen's new novel 'The Bottom Man' here.