Paula Meadows – 4 Classic Spanking Illustrations
10th Aug 2013
Following up our brand new interview with Paula Meadows, Fiona Lewison reflects on her four favourite spanking illustrations.
Paula Meadows' artwork was just as important a part of my enjoyment of spanking magazines as the stories and photos. Her peculiarly evocative work first appeared in 1982, and she illustrated stories in Janus, Februs and Fessée. I know most of us felt that no issue was complete without a carefully rendered, and very erotic, drawing by this wonderful artist, and it is a pleasure and an honour to highlight four of my favourites.
Upstairs, Downstairs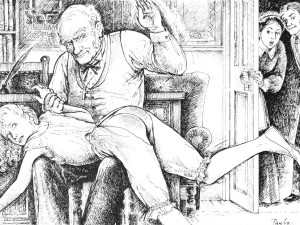 I love this drawing. I see it as a gruff old butler dishing out some traditional punishment to an errant scullery maid. The butler was the absolute master below stairs, and it is not difficult to imagine this sort of thing going on all the time in the 18th and 19th centuries. The poor girl has had to strip down to her underclothes and, as if that weren't bad enough in a man's presence, her bloomers have been drawn apart to give the butler better access to the target (and a lot more fun, presumably). To make matters worse, the scene is being witnessed by what must be a footman and another maid. The ignominy of it just screams at you.
Witnesses are a common theme in Paula's work, and for me they add immeasurably to the sense of menace and humiliation. A punishment is one thing, but a punishment with bystanders staring at your bottom must be a thousand times worse. But we can, of course, identify with those witnesses, because we would do exactly the same thing in the circumstances. We would stare unashamedly and relish every smack, not caring a jot for the victim's sensibilities. We are, after all, only human.
All Girls Together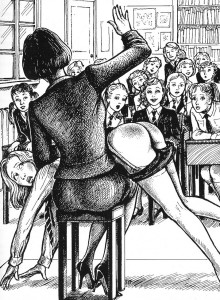 This is a very 'female' drawing that simply bursts with oestrogen, and I've found myself looking at it again and again over the years. It is a very public spanking, but I don't think the young miscreant is too worried that her classmates are watching. It's embarrassing, of course, but there will be that natural familiarity with each other's bodies from the showers and the dormitory, and this girl's bottom will be as accustomed a sight among her classmates as any other. She is much more concerned about the rise and fall of the teacher's hand, and who can blame her? The woman, who herself has a very shapely bottom, is clearly a fearsome, no-nonsense practitioner, and the youngster's dismay is written all over her pretty face.
And that's what this drawing is all about: faces. Paula's ability to capture the allure of a girl's bottom is unparalleled, in my opinion, but instead of the usual front view we are behind the scene watching the reactions of the witnesses. We can still enjoy and feel the punishment, and we can still see the victim's bottom, but our eyes are drawn to the audience of girls who stare with a variety of delightful, and cleverly girlish, expressions. There is shock, there is curiosity, there is fascination, there is glee, but above all there is a wide-eyed inability to look away, and that's just like us as viewers. I see myself over the teacher's lap, and I see myself in every onlooker. I can even, now that I've reached a certain age, see myself as the strict, yet caring, teacher. So I am absorbed into every nook and cranny of this image, and it remains one of my very favourite examples of Paula's work.
The Good Old Days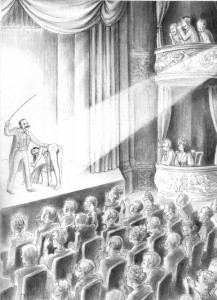 The Victorians were very fond of their variety shows, and we must imagine that this particular turn is one of dozens on the bill during an evening at the theatre. Jugglers, dancers, conjurors, singers – "And now, ladies and gentlemen, for your delectation and delight, a domestic drama in which a young lady gets more than she bargained for when she crosses her stern master."
I like to think of it as a father-daughter double act that toured the provinces in the early 1870s, circumventing the laws on stage nudity by presenting itself as a tale of morality and the inadvisability of sin. The middle-class audience could stare with impunity, safe in the knowledge that they were being educated as well as amused. The gentlemen would puff on their cigars while mentally counting every stroke, while their wives would blush and feign to look away, secretly wishing that their husbands were equally as assertive. My guess is that several of those ladies will get home and start to think up imaginative ways to be sinful. There will almost certainly be a cane in the house for use on the female servants, so it is simply a matter of provocation. Properly stimulated, a husband will do what is necessary to maintain order. And he might even pay a visit to his wife's bed chamber afterwards.
A Night In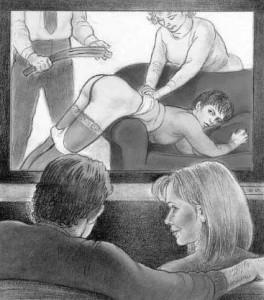 This is an absolutely charming image that speaks volumes about equality and a modern approach to discipline, whether for pleasure or as a punishment. A husband and wife have settled down on the sofa to watch a spanking video. It is very much an act of togetherness, and this is what makes it so appealing. But what's going on exactly? The woman looks admiringly at her man, perhaps pleased to discover that he has an interest in such matters. On the other hand, she may have popped down to Old Compton Street in her lunch break and picked up something she hopes will add a little spice to their love life. Whether she wants to be spanked by her husband because it's fun, or whether she wants him to be a little more firm with her, it doesn't really matter. The point is that it's mutual.
The video they are watching shows a cosy domestic punishment, a daughter being dealt with by her mum and dad or a niece by her uncle and aunt. But the tawse suggests a serious transgression, and we could assume that one of our audience of two is dropping a hint of some kind. Perhaps one or both of them feel that sterner measures are needed. And that's just wonderful.
Whatever the motivation, we can be sure of one thing: this wife is going to spend some time over her husband's lap before the night is out.
Paula illustrated every issue of Fessée and Februs and appeared as a model in Janus 13, Janus 21, Janus 29 and Janus 38. She also modelled in Februs 18, Februs 22 and Februs 25. A Janus Collection celebrating her favourite illustrations for the magazine is also available along with Encore Janus 9 which brings together all the surviving images from Paula's appearances in Janus. All these magazines can be downloaded by clicking on the highlighted links.