Merry Spanking Parties – A Look At Christmas Past
11th Dec 2014
For so many people we are approaching a very important time of the year. We now remember the many members of the Privilege Club who year after year at this time enjoyed the highlight of the Spanking Season.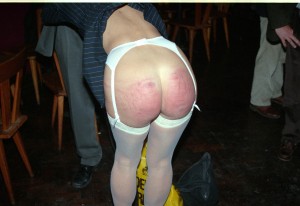 We are pleased to publish these photographs which were taken after the 1994 Michaelmas term party held at School Dinners Restaurant in Central London.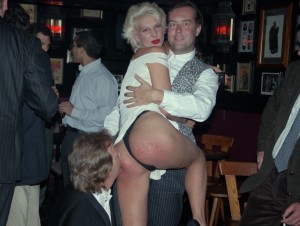 The brainchild of Gordon Sergeant these parties were run with military precision (no snooping intruders).  They featured models who had appeared in Janus such as Sophie Fennington and Paula Russell.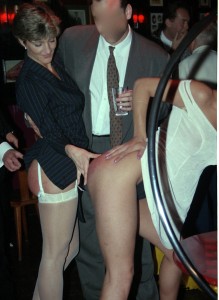 Introduced by an enthusiastic MC the entertainment consisted of several individual acts performed on a stage. A highlight of one event was a shapely traffic warden who after threatening to issue a parking ticket to a Bentley parked outside illegally ends up bent over a stool and has her bare bottom caned.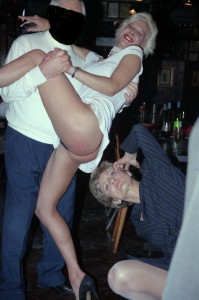 Unfortunately for her, the car belonged to Gordon Sergeant! The act was so convincing many in the audience were completely fooled. Privilege Club members could enjoy fabulous food with wine and witness an intoxicating blend of CP entertainment.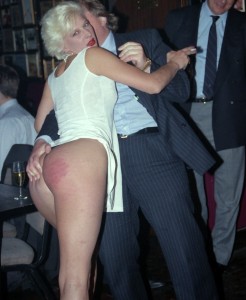 Janus 53 photo fantasy "CP Tease" being re-enacted by Sophie and Christian Fennington live on stage , just one of the many highlights.
These were heady days for Janus.