Latest Spanking Magazine Added
7th Jan 2015
Janus Model Interviews volume 2 has just been added to the Janus Online Shop. Between  1983 and 1990 Janus published a series of occasional interviews with females who enjoyed receiving corporal punishment in one form or another. Most had already appeared in photo fantasies, and it was while working with them that it became clear to us they had stories to tell which would be of interest to our readers.
This magazine is the second in a two-volume compilation of eleven interviews with our more 'dedicated' models. These revelations were soon formalised under the general heading of the Punishment Series.
In each case we tape recorded an in-depth conversation with an articulate subject, searching out the origin and nature of her desire to be spanked, caned, strapped or whipped, and exploring her need (or otherwise) to be dominated withing the structure of such a punitive encounter. Photographs were taken to show the interview proceeding and to illustrate the subject receiving a preferred form of CP. We sought to discover what made her tick as a person, so that what she shared with us could be understood in the context of a real, unique human being, someone it could be easy to imagine meeting.
Model Interviews vol 2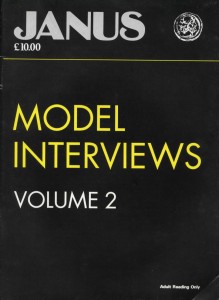 is available to download by clicking on the highlighted link.