Latest Blushes Supplement and Phoenix Spanking Magazines
9th Aug 2014
We've just added two new spanking magazines to the Janus Online Shop. Blushes Supplement 32 (see below) and Phoenix 5 are now available to download by clicking on  the highlighted links.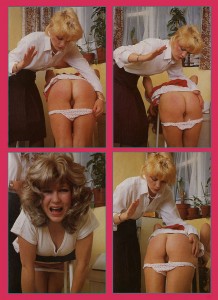 The arrival of Blushes Supplement 32 means that all thirty five issues of this run of excellent magazines are now available to download. There has for some time been a debate among collectors about how many issues of Blushes Supplement were actually published. The confusion arose when copies of 'C.P Special Edition' began to appear which featured two or three older Blushes stable magazines with a new front cover. (The publication of these 'Bumper' or 'Jumbo' issues are probably the reason so few of the original Blushes magazines have survived intact today.)
On the inside back covers of each magazine were a list of back issues still available. The earlier compilations included a hand written update to the list to indicate there were 37 issues of Blushes Supplement available to purchase. However, in the later compilations, this error was corrected to show the run ended with Blushes Supplement 35. It's strange to think that a slip of a pen all those years ago means we still get asked about Blushes Supplement 36 and 37 today.