Fiona Lewison's Six of the Best Spanking Images – Part 1
12th Jul 2013
It has been images, rather than words, that have captured my disciplinary imagination over the years. I'm a prolific reader of words on other subjects, and I have a typically girlish passion for 19th century literature, but when it comes to spanking, photographs rise above everything else. This community has mostly moved on from still to moving images, for obvious reasons, but the photography in this field, particularly the work of Vic Barnes and his contemporaries at magazines like Roué and Blushes, seems to me more persuasive and atmospheric than anything committed to film. There is a greater subtlety in a photograph – a greater amount left to the imagination – that allows the viewer to decide for themselves what is going on in terms of the fiction and of the reality. It allows them to impose a personal and often cherished view, whether it's the erotic or the mundane.
So here's six photos that have sent me into a flutter since I bought my first spanking magazine, Janus 12, in a scruffy newsagents in south London in the early 1980s. My choice won't be everyone's, but if an appreciation of this subject isn't personal and representative of your own nature I don't know what is. Maybe it's just a woman's view, in which case you'll have to forgive me.
The Girl At The Window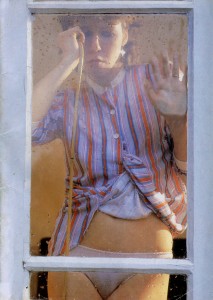 This is, for me, one of the finest spanking photos ever taken. It's from Roué 22, which was one of the first magazines of this type that I bought. The first thing that strikes you is the girl's face. She's young and she's pretty, but she's also ordinary and from 'next door'. And her expression isn't one of fear, it's one of sadness. She's in her knickers, which would be embarrassing if there's a man around, but that's not the principal reason why she's unhappy. Perhaps she wishes she'd worn a nicer pair. They're early 1980s Marks & Spencer, and probably cost as much as her, or her mum, could afford. I thought at first that she was wearing the top half of a pair of pyjamas, but a closer look reveals that it's a collarless shirt. We used to call them 'granddad shirts', and I'll bet it's made of cheesecloth.
The girl is holding an old-fashioned cane, but I don't think she's yet felt it across her bottom. She's been sent to fetch it, and is having a quiet little moment to herself. Perhaps she imagines that a passing stranger might intervene and save her from this dreadful fate. Surely a spanking would be sufficient for a girl of such tender years? It's a forlorn hope, because she is most certainly going to be caned, but she clings to it, as a young girl would. I feel sorry for her, even though she must have been very naughty indeed.
The view through the window on a rainy day makes us outsiders. We could easily have been walking down the street outside, and turned our heads at just the right moment. And now that we have seen it, we've become voyeurs. We want to know more. We want to know what she did, we want to know who is going to punish her, and most of all we want to see it happen. We know it is inappropriate for us to watch a young girl being caned on her bare bottom. It is a private domestic affair, and we should simply pass on down the street. But we cannot. The scene is too compelling, and we are rooted to the spot. We must, and will, watch. It's powerful stuff.
A Naughty Schoolgirl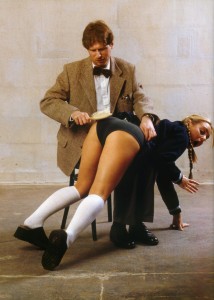 And now for something completely different. There are dozens of photos of the lovely Tara Duncan I could have chosen for this list, but I had to pick one and this is it. It's from Janus 139, and it's a classic school scene. As ever with this model, the uniform is smart and authentic, and we know the chap must be a teacher because he's wearing a tweed jacket with a load of pens stuck in the top pocket. It's a dead giveaway. It also adds a slightly comic touch that lightens the whole tone of the picture. It's not a terribly serious punishment, and I don't think our errant schoolgirl is particularly put out even if it is the dreaded hairbrush. It's just something to be got through before she can skip off and continue gossiping with the other girls. She'll show off her reddened bottom as a badge of honour. So, for me, this is quite a happy photo: a routine spanking that will persuade the girl to behave for a week at the outside. She'll be back over this teacher's lap again quite soon, and she won't be all that bothered about it.
What really makes the photo is Tara's performance. She's gorgeous, for one thing, and surely has one of the prettiest bottoms ever to grace the pages of Janus or any other spanking magazine. She's cheeky and girlish, and has the most delicious pout. I also get the feeling that a smile was never far from her lips, and that she probably giggled her way through most of the shoot. It's just charming.
We'll be featuring two more of Fiona's 'Six of the Best' next week. You can download copies of Roue 22 and Janus 139 by clicking on the highlighted links above or the magazine covers below. If you'd like to see more of Tara Duncan she also appeared in Janus 132, 155 and 156 and Februs 41.