Female Roles in Spanking Magazines – Part Two
7th Sep 2013
Fiona Lewison continues her exploration of the different roles women play in spanking magazine fantasies and their enduring appeal. You can read part one by clicking on the highlighted link.
Negligent nurses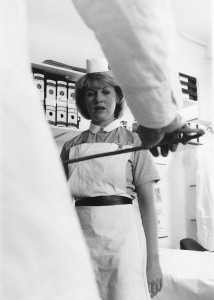 Nursing is a tough, yet rewarding, job that carries a lot of responsibility and requires a good deal of emotional investment in the business of caring for the sick. At least that's how I saw it when I was in training. The reality is somewhat different, but I won't go into that here. Suffice to say, a pretty girl in a crisply starched nurses' uniform is a prime target for a disciplinary fantasy, and Janus etc were not slow to exploit it. In my day, the worst you could expect was being barked at by Sister, but that didn't stop my mind wandering off into a dream world where I faced a hastily convened tribunal for a series of life-threatening mistakes and ended up over the lap of a handsome doctor. And quite right too. Nurses need to behave responsibly at all times, and what better than the threat of a smacked bottom to keep them on their toes? It's perfectly natural and, of course, very entertaining.
I think my favourite photo-story is the caning of Nurse Brierley in Janus 48. The uniform is authentic, there's a palpable air of menace about the beastly male doctor, and there's a couple of very atmospheric shots of our heroine staring with disbelief at the dreaded implement that's about to be used on her. It's a nice touch. She is also, in keeping with pretty much every depiction of a nurse, wrapped up nicely in black stockings and suspenders. I know for a fact you'll think I'm making this up, but when I was at Westminster Hospital almost all of us wore stockings rather than tights. You're on your feet all day in a warm and stuffy environment, and stockings were simply more comfortable and hygienic. So if you've ever been in hospital and wondered what that pretty nurse wore under her uniform, now you know (probably).
Other photo-stories explore the primly dressed, and often rather flustered, district nurse, who has heard stories about old Mr So-and-So but arrives breathlessly on a bicycle determined that there will be no funny business whatsoever. Inevitably, she falls foul of her libidinous patient, who is miraculously more fit and able than was anticipated, and is persuaded over his lap for a nice bare bottom spanking. At least she can cycle off in the knowledge that she has done her bit to improve patient morale, and that Mr So-and-So will make a full recovery sooner than expected. Florence Nightingale would have approved.
Sloppy secretaries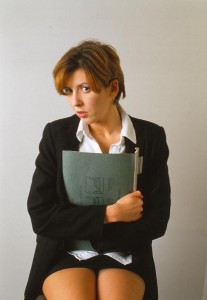 I'm sure you'll all agree that there's something rather special about a tight-skirted secretary being spanked over her boss's lap or bent over her desk for a sharp dose of the office ruler. The employer/employee relationship provides all the justification we need for a realistic fantasy, and we can easily imagine a clause in the contract of employment stating specifically that junior females are liable to, or can opt for, corporal punishment at the manager's discretion. The secretary could, of course, refuse the boss's disciplinary advances, but that would mean losing her job. Reason prevails, and she takes the opportunity to wipe the slate clean and start afresh. Sensible girl.
I was a secretary myself in the mid-1980s, and I often imagined just such a situation. My boss was a gruff, old-fashioned man in his fifties (I was 22 or 23), and frankly he would not have looked out of place in a Janus photo-story. Would I have taken a spanking from him if he'd suggested it? I don't know. Probably not, because I would have been too frightened. But I thought about it a lot, and I've had a soft spot for this fantasy ever since. There's just something about it that has always appealed to me. It is, I suppose, one of the few fantasies that you can actually imagine happening. There are undoubtedly young women out there who would take this kind of opportunity to avoid being dismissed. Some of them would welcome it too, and that's a very interesting thought.
The idea reached the mainstream in the 2002 film Secretary, and I'm guessing there's not a single reader here who hasn't seen it. I didn't particularly like it, but it was undoubtedly a breakthrough piece of cinema. I found the spanking scenes over-sexualised and a little frenzied, even sadistic, and I just couldn't connect with them as much as I wanted to. Maggie Gyllenhaal is magnificent as the troubled, self-harming masochist, but what her character seeks isn't punishment, as I understand it, but simply another form of pain.
If I have a favourite 'secretary' it's Abigail Laine from Janus 136. She's sexy and very cheeky, and the perfect candidate for a smacked bottom. She understands the need for it, and takes it with good grace as every woman should.
In next week's final part Fiona concludes her look at female roles in spanking magazines with 'Guilty girlfriends' and 'Wilful wives'.