Classic Spanking Magazines – Blushes 1
18th Aug 2014
It's hard to explain to younger members of the spanking community the allure of these wonderful old spanking magazines. Let's face it; back in the 70s and 80s collecting these magazines was an expensive 'hobby'. They cost significantly more than the average pornographic magazine and most of us needed to visit a specialist bookshop to browse the full range of titles available.
This correspondent made a special journey to London every three or four months and, including travel, there would rarely be change from £150. Planning each visit was tricky enough but just the thought of what new delights awaited made every journey worthwhile. The walk up Old Compton Street was always a slightly nervous affair – would it be possible to slip unseen into the Janus shop or might there be a need to walk on up the road and try again on the way back!
Once inside though all that effort was worthwhile. Just seeing all those magazines on the shelves was amazing – being surrounded by so many arousing images was intoxicating. Then it was a question of looking through everything new and deciding what was 'essential' and what would be 'nice to have'. One magazine that fell instantly into the 'essential' pile was 'Blushes 1'. It wasn't the most exciting of covers, but inside were some of the most iconic images of corporal punishment ever seen. These included:
On the contents page a beautiful girl looks anxiously over her shoulder as a bespectacled man holds the cane above her bare bottom.
The first colour plate is a beautifully composed shot of a nervous 'school girl' looking through the glass door of the headmaster's study as a caning takes place.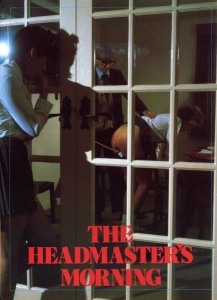 The colour plates towards the centre of the magazine feature some striking images of the 'contents page girl' being prepared for a very formal punishment.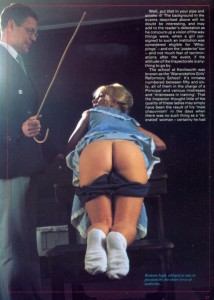 But there was one photo fantasy that stood out above all of these. There was something amazing about the images that accompanied 'The World Has A Bad Day'. A young woman prepares herself for a spanking in a domestic setting. The photo on page 34, with a resigned expression on the young woman's face as she slowly pulls her knickers down, makes this correspondent's all time top ten with ease.
It is perhaps the combination of photos of this young lady bent over with a lily white bottom on page 35, red bottomed on page 38 and teary eyed, looking over her shoulder at the dreaded spanking hand on page 39 that make Blushes 1 the classic magazine it is. The photographer has a very clear understanding of how to compose an image that commands the attention of those with an interest in this subject.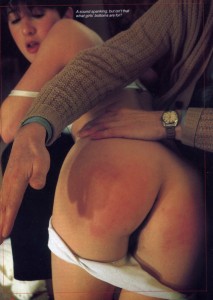 It was a sensational debut. The cover promised that Blushes was a 'bi-monthly collectors special' but very quickly the publication schedule stepped up to monthly, sister publications in the form of 'Blushes Supplement' and Uniform Girls' popped up and the rest, as they say, is history…
You can download a copy of Blushes 1 by clicking on the highlighted link.