Amy Adams – Order Of The Burning Bot
3rd Jun 2014
A few years back Amy Adams came to the attention of the spanking community for wearing the most amazing pair of tight jodhpurs for the duration of an otherwise ordinary film called 'Night at the Museum 2'. She spoke openly about it at the time:
Amy Adams earned her second Oscar nomination this year for a role as a naive young nun in "Doubt," but in an interview in the BlackBook, she revealed that one of her upcoming roles would let audiences see a new side of her.
She'll play Amelia Earhart alongside Ben Stiller in the upcoming "A Night At The Museum: Battle of the Smithsonian" — in tight pants.
"Tight jodhpurs," Amy told the mag. "It's going to be an Amy Adams butt show. I was like, 'That's a lot of information.' I'm not known for showing my ass on camera, but there it is."
Steve T contacted us again to nominate Amy as a candidate for the OBB with two compelling pieces of evidence. First up is a compilation of the scenes that show off her bottom to its best effect in 'Night at the Museum 2'. This ninety-second celebration will save you wasting a hundred minutes of your life watching the actual film!
Second is this terrific gif from 'American Hustle'. What a tough day at work for Christian Bale! In our imagination at least, this shot took hours of preparation and countless retakes to get just right.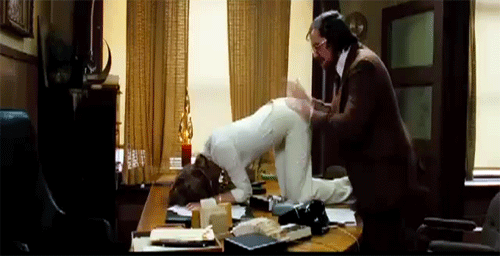 Now that Miss Adams seems to have got over her initial reticence is it too much to hope we will see a lot more of her lovely bottom on our screens in the future?