New Janus and Uniform Girls Spanking Magazines
23rd Feb 2014
We've added two new spanking magazines to the Janus Online Shop this weekend. Janus Vol.2 No.4 and Uniform Girls Vol.2 No.18 are available to download by clicking on the highlighted links.
Uniform Girls Vol.2 No.18 features a superb cover shot and unusually for Blushes more from this classic photo shoot can be found inside the magazine – see below.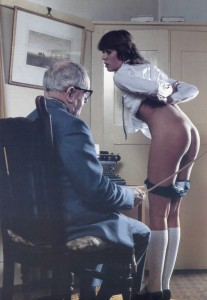 Also this week our friend Cliff James published some memories of Janus in his spanking blog – you can read his recollections here. Scroll down to the entry on the 19th February 2014.